Land activity
Peer through binoculars at the raucous yellow-tailed oropendula in its colony of hanging nests on your birdwatching excursion or canoe down a cool clear river, stopping for a picnic on a sand beach or catch the splash of a large iguana as it falls from a riverbank tree and swims to shore.
An abundance of national parks, private nature reserves and botanical gardens offer a range of rainforest activities for the quiet observer to the active adventurer.
Integrated with this lush forest habitat are magnificent Maya temples, spectacular caves and sparkling rivers and lagoons that create glistening threads against a tapestry of green.
Inland Activities you must to try when in Belize: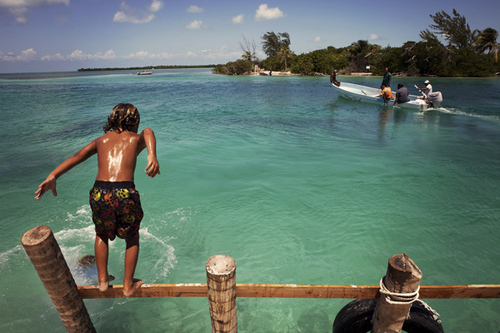 "...It took me three days to finally catch up with the Belize island of Caye Caulker's motto ... You do that like a local," whispered a voice in the distance as I walked at the speed of a turtle, almost in a trance, after spending an hour relaxing in a hammock at the end of Colinda Cabin's dock. It took me three days to finally catch up with the Belize island of Caye Caulker's motto "Go Slow," and now I am totally ok with it..." See on
livefastmag.com
Caye Caulker Sunrise
Sharon and I especially wanted to explore the Caye Caulker Forest and Marine Reserve. Getting there took three attempts.
Not until our last full day on the island was the sea smooth enough to get there. In 1961 Hurricane Hattie had divided the south and north ends of the island. We were in the village on the south end, but the reserve is on the north end.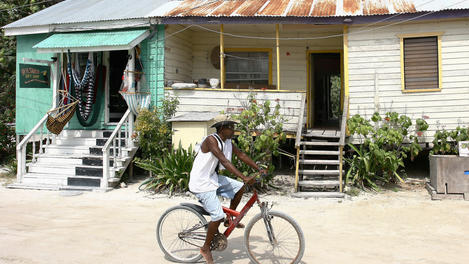 Local cycling on beach front.
'No Shirt, No Shoes…No Problem.' You'll see this sign everywhere in Belize, but no place is it more apt than Caye Caulker. Indeed nothing seems to be a problem on this tiny island, where mangy dogs nap in the middle of the dirt road and suntanned cyclists pedal around them. The only traffic sign on the island instructs golf carts and bicycles to 'go slow, ' a directive that is taken seriously.
<< Start < Prev 1 2

3

4 Next > End >>


Page 3 of 4